Google released its Site Kit plugin almost half a year ago (October 31, 2019). In this review, I would like to present Site Kit's main features and show you why you definitely need to have this plugin running on your site as well.
Effortless integration to Google services

Before Site Kit was released, connecting your site to Google services was a complicated process. Often you needed to install several plugins, spend time with configuring them and after all of this, you still didn't get the value you expected. No need for that anymore. With Site Kit 1.4.0 you can smoothly integrate your site to:
Search Console
Analytics
PageSpeed Insights
AdSense
Optimize
Tag Manager
With just a few clicks you are able to set up your new Google Analytics account and connect it to your site. Already have a Tag Manager? No need to hassle either, just press connect and after allowing Google to access your data, you are done.
Most important stats at one place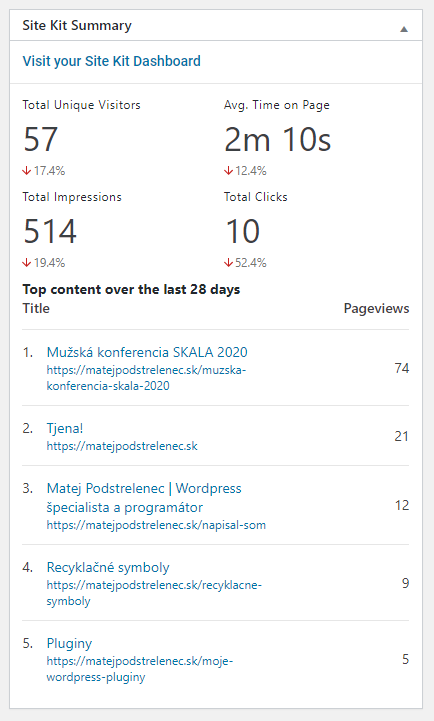 Every time you login to your site administration, you are presented with daily updated and most important statistics. Based on your integrated services, you can view in the Site Kit's dashboard following stats:
Acquisition overview
Search funnel
Top search queries for your site
Most popular content
Mobile & Desktop speed index
and more
To access more in-depth statistics you can visit respected Google service through the link in the Site Kit dashboard.
No real-time analytics
While Site Kit can show you the most important stats, it is missing real-time analytics. For that, you still need to access Google Analytics.
Some users also reported Site Kit as buggy. I have experienced some errors as well, when I installed it on a site that already had other plugin, that was using Google charts library for example.
Conclusion
While WordPress users gave Site Kit average rating of 3.5 stars. I think it is definitely worth more. Plugin is well supported and almost every two weeks receives an update with bug-fixes and functionality enhancements.
Thanks to its ease of use and great value for the little effort, I 'll make sure that Site Kit is installed on every project I work on.